Trial Excavation in Haerba-ling
Purpose of trial excavation

A trial excavation is carried out to determine methods for excavation and recovery by figuring out the burial condition of ACWs, soil conditions and verifying methods and safety.
Fiscal year 2008
Trial excavation of Pit no.2

641chemical shells were excavated
Obstructive factors to machine excavation were confirmed (Relatively large inclusions and firmly adhering shells were identified)
Safety of manual excavation was confirmed.

Excavation Operation

Overpacking of shells
Fiscal year 2009
Precise exploring of Pit no.1 and Pit no.2

Precise exploring was executed to identify the specific scope of burial area.
In the process of removing 2-3 cm of surface earth and sand, 29 chemical shells were excavated.

Close examination of Pit no.1

Close examination in Pit no. 2 tent
Preliminary work for trial
Outline:

On the trial excavation occasion, logging operations in the surrounding area, construction of roads to Pit no. 2 and removal of earth and soil from the surface and surrounding area of Pit no.2 were conducted.

Duration:

July 28, 2008 ~ August 25, 2008


<Road>


<Pit no. 2>

<Full View>
In the process of removing surface and surrounding earth, shells of the former Japanese military forces were found and 13 chemical shells were temporarily overpacked.

Trial excavation
Outline:

The south side of Pit no.2 was excavated on a trial basis to understand the soil property, distribution of buried shells, types and condition of shells and safety together with verification of the excavation manual procedure.

Duration:

December 8, 2008 ~ January 22, 2009


<Full Views>
Excavation and recovery

While obtaining information about shell types, burial conditions necessary for considering excavation methods, excavation and recovery operation was carried out and 641 chemical shells of the former Japanese military forces were recovered.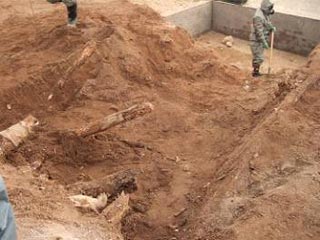 <Removal of surface soil above ACW>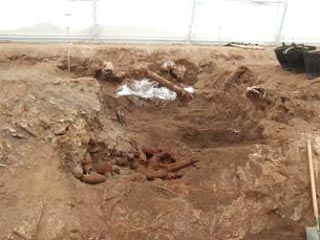 <Starting of excavation>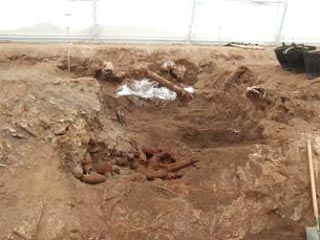 <Excavation of shells>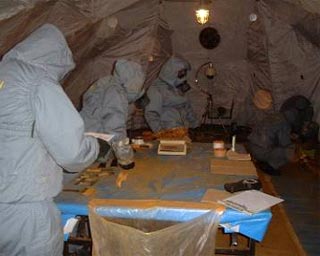 <Identification of shells (1)>
<Identification of shells (2)>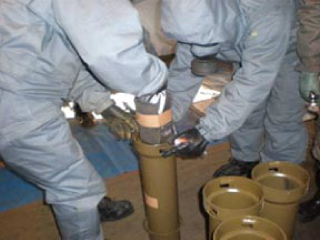 <Overpacking of shells (1)>
<Overpacking of shells (2)>